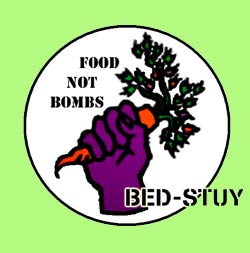 Site Navigation:
Home
How To Find Us
Gallery
Contact
Flyers
Recipes
None of the Above

-----------------------
Links
FNB NYC (Downtown)
FNB Harlem
Long Island FNB
Worldwide Food Not Bombs
---
---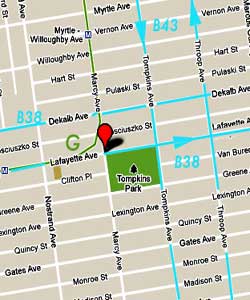 ---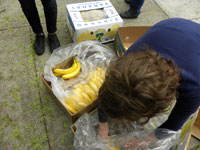 Bedford Stuyvesant Food Not Bombs shares food every Saturday at 3 p.m., rain or shine, at the northwest corner of Von King (Tompkins) park, at Lafayette and Marcy. We want you to come and see and take part.
Foot Not Bombs is a worldwide movement made up of autonomous groups who believe that food and the other necessities of life are rights, not privileges. So we give food away and eat it ourselves. We are not doing charity but community, solidarity and celebration.
We get our food from donations by companies, stores, organizations, and individual people. Much of the food we share would otherwise be thrown away or wasted. Instead, it is made into nutritious vegan meals or distributed as-is, free to all who want it. Sometimes we give away flowers, too!
This is the way the world ought to be. Come and be part of it.
---

COMING EVENTS
In the immediate future we will be meeting at Von King Park at the corner of Marcy and Lafayette, and bringing food prepared separately elsewhere while looking for a kitchen we can use regularly. Food is shared at 3 p.m. If you want to, you can bring food yourself (prepared or not) or just come to partake. Everything is free.